<!.. /frame ..>


One of the difficulties with finding useful periodicals in this way, is you will never actually get any list of the more important periodicals, the highly regarded, the most topical. A search for science magazines will not lead you to Nature and New Scientist (two of the most prestigious science magazines). Instead you get a list of perhaps thousands of possible magazines. This is a serious difficulty, not easily overcome.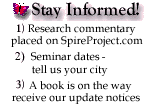 There is a way around this but unfortunately it is not a clean search of available resources. Undertake a search for articles which match your interest, then focus on the most periodicals featured. The publications appearing most often should, in theory, be the ones to focus on. Of course article length may also give you a clue.
We can use the free online article databases - but unless you have a single unique term to search for, we suggest you don't. Carl UnCover (uncweb.carl.org) is a bibliographic database to articles from well over 18,000 multidisciplinary journals but there is no proximity search available (so no " "). The Northern Light (northernlight.com)Special Collection comes from 5,400 periodicals, some newspapers, some serials. Northern lights is light on content in comparison.
To do this right, you must make use of one of the commercial databases that cover your field. Anything less runs the risk of self-selecting only publications which allow their articles to be indexed - that does not particularly help.
This may seem like a lot of effort just to select the publications you want. Certainly, there is always the backdoor approach of contacting a librarian from a specialist library and getting advice. Sometimes the simple approach is the best.
May I suggest posting a message to the Buslib-l mailing-list/newsgroup if you are truly lost.
In a small way, this approach works for individual researchers too. If you have access to BPO, and you want to browse available publications, start an article search then focus on the periodicals that appear most often. It is an effective way to focus quickly on the few publications that cover your interest with any intensity.
<!.. summary ..>


5 Second Summary:

Zines are free, easy to find, and well organized.


Ulrich's International Periodicals Directory, Ebsco's Serial
Directory, and Newsletters in Print (Gale) are definitive.




In a pinch, use an large library periodical search.


<!.. /summary ..>

Occasionally you will wish to subscribe to a promising periodical and read page by page. This works well in organizations where periodicals can be circulated among interested parties, passively picking up information. Most research, however, is an active process - a search for specific answers to questions you have now.

It may be useful to browse the table of contents pages of appropriate periodicals. Automated delivery of contents pages is emerging as a viable electronic service, though this tends to be more surfing or browsing than research at this time. <!.. base ..>